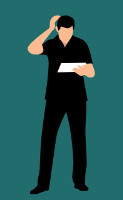 Often, an issue that confounds writers is finding they've written themselves into a corner or dead end. They wind up stuck, not knowing what happens next or how to resolve the problem.
Invariably, this comes from not paying attention to the Why's.
Why would the character do something like that? Why can't he just…whatever? Where does he go from here?
This indecision is usually based on a lack of understanding of the character's psychology — his motivations, which are based on his flaws and emotional wounds, his deepest fears and his goals, his secret desires and his limiting beliefs.
Every action the character takes has a motive, and it can't be just that the story needs him to do something at that point. He must be driven to do so by something he wants, something that worries him or something he's afraid of. And that desire must be in conflict with a story situation or another character's goals and needs. Otherwise, there's no story.
Know Your Characters
Go over your current work in progress and look for cause-and-effect. Find out the real reasons why your character makes the choices he or she does.
Even in autobiographical personal histories, if you dig deeply enough, you can find the root causes of your character's behaviour, and sometimes this can lead to surprising insights. You must get to know your character inside and out, in order to discover the reasons he does what he does, or doesn't do the things he should.
When you know your character, you'll know his Why's.
"Why?" Questions
Here are some Why questions you can ask your character (or yourself, if you're writing autobiographical material.)
What's my character's greatest goal or desire — what does he want?
Why does he want it?
Is this his goal throughout the entire story? If not, why not?
What else does he want and why?
What does he want in each scene?
Why does he want it now?
What's stopping him? Why is it stopping him?
If it's another character, why is it so important to that character to stop him? (Motivation)
There are many, many more questions to ask your characters, but Why questions like these can help clarify where (and why!) your story's stuck.
The more questions you ask, the more answers you'll get, and sometimes, they can lead you to some surprising conclusions.
Happy Writing,